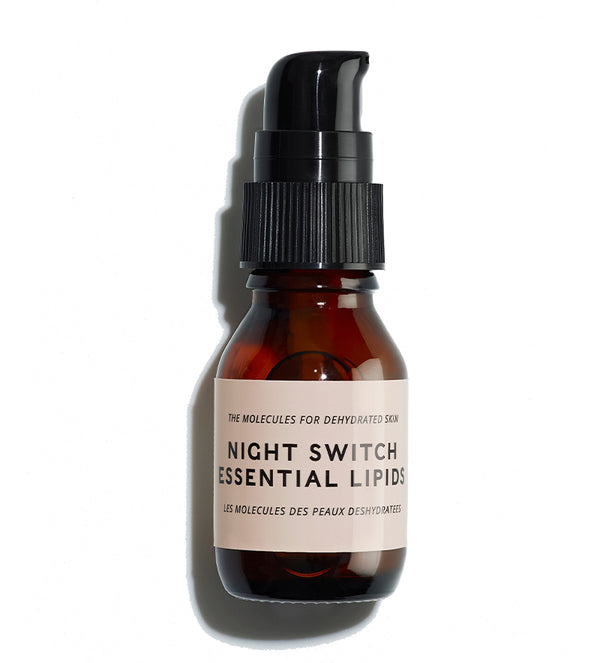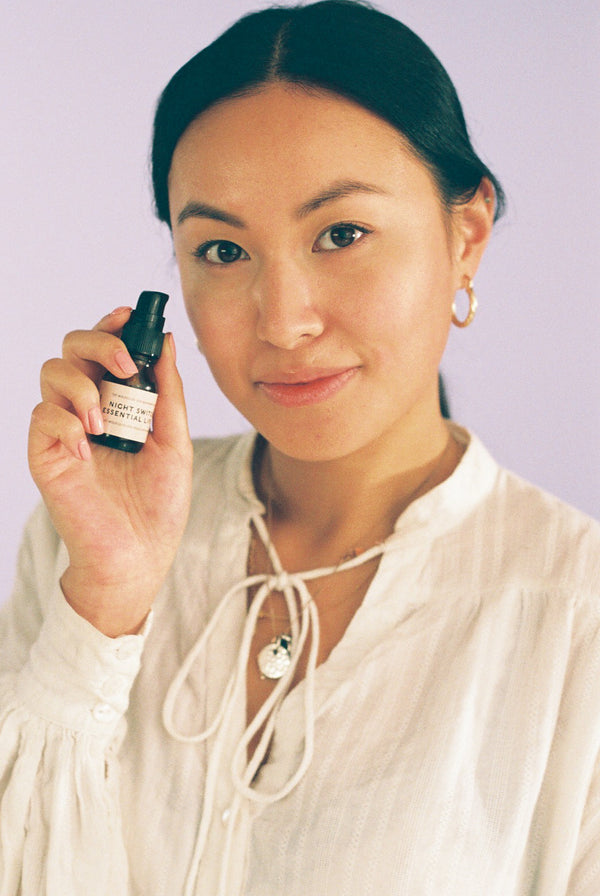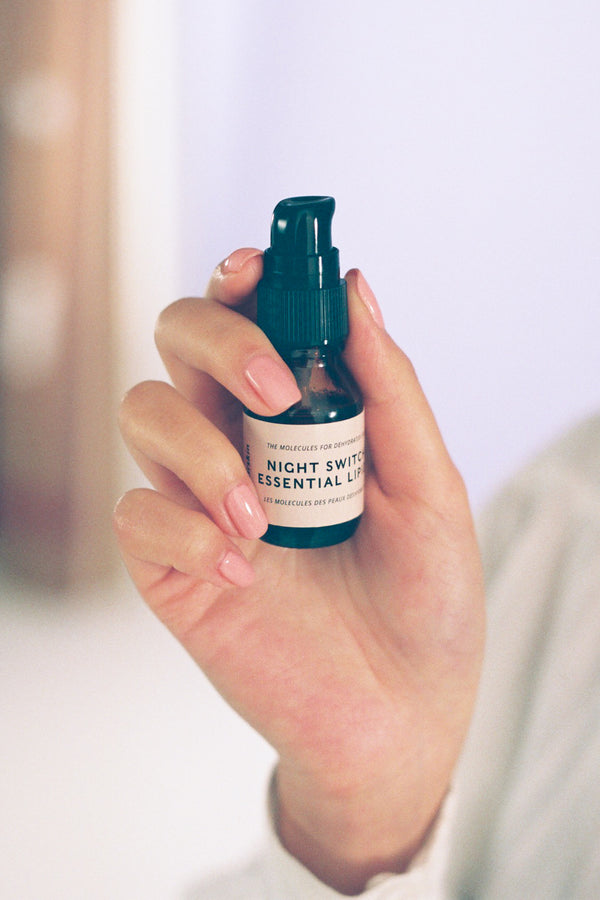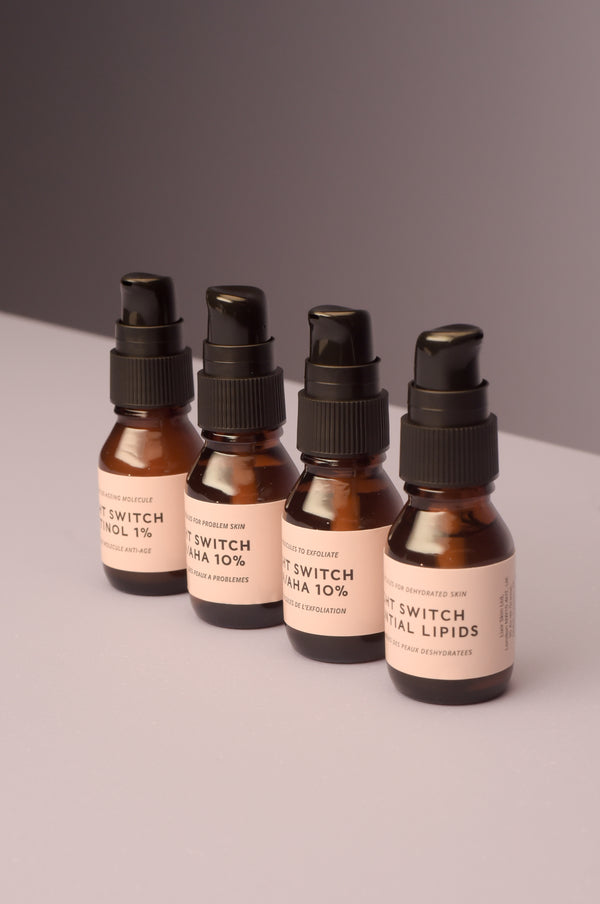 Night Switch Essential Lipids
The molecules for dehydrated skin
Its creation
We wanted to create targeted night care for skin concerns that allows the skin to rest and reset. NIGHT SWITCH are formulated with pure active molecules for when your skin switches to repair mode in the evening.
Skin likes change. An active ingredient used for too long saturates the skin and loses efficacy. Switching stimulates the skin to avoid the plateau effect and get better results. NIGHT SWITCH asks skin to do one thing at a time, but to do it well.
Today nobody should suffer from dry and dehydrated skin. Dry skin is described as a skin type lacking lipids and dehydrated skin as a skin concern when it lacks water, courtesy of sensitivity, irritation, stress, travelling, seasonal or hormonal changes. Do not waste time trying to diagnose whether you have one or the other! The reality is that lack of lipids reduces the ability of the skin to retain water so it becomes dehydrated. The result for the skin is the same and what helps both is the right blend of lipids.
They both deserve more than a classic face oil. We use pure lipidic molecules obtained from enzymatic technology to fractionate the plant oils, they are immediately bio-available and quickly absorbed.
What it does
This ultra-rich lipid blend of ceramides, essential fatty acids, phospholipids, phytosterols and glycerides helps repair and sooth very dry and dehydrated skin. NIGHT SWITCH ESSENTIAL LIPIDS replenishes the lipids of the cell membrane to help build a strong epidermal wall to restore compactness and retain water, help reduce the effects of inflammatory mediators and mimics the 3D lipid structure that traps water and seals the surface of the skin.
How your skin feels
Your skin feels instantly less tight, more comfortable, supple and soft.
Keep going, it takes time to repair the epidermal wall to reduce flakiness, dryness lines, soothe irritation, redness, improve firmness, elasticity and restore the glow of healthy skin.
To use
Mix one to three pumps with Universal Emulsion in the palm of your hand, apply to your face, eye contour, neck and décolleté. Use at night for three weeks, then switch to another Night Switch, then start again with Night Switch Essential Lipids whenever your skin feels dry and dehydrated.
Ingredients
Rubus Idaeus (Raspberry) Seed Oil, Oenothera Biennis (Evening Primrose) Oil, Glycine Soya (Soybean) Oil, Almond/Borage/Linseed/Olive Acids/Glycerides, Olive Glycerides, Cananga Odorata Flower Oil, Tocopherol, Ceramide 3, Pelargonium Graveolens Flower Oil, Rosa Damascena Flower Extract, Citronellol, Linalool, Benzyl Benzoate, Geraniol, Benzyl Salicylate, Farnesol, Eugenol, Citral, Isoeugenol, Limonene.
FREE SHIPPING
with purchase on orders over $30
15% DISCOUNT
If you subscribe to our Newsletter
FREE SACHETS
2 free sachets for every order
HOW TO USE
Night Switch Essential Lipids
FAQ
Can the Night Switch Essential Lipids be used alone or is it best to mix with the emulsion?
All our Night Switches have to be mixed with Universal Emulsion except BHA/AHA that can be used applying one to two pumps to the affected area and then follow with Universal Emulsion.
Could you please elaborate as to how to coordinate the Night Switches?
For dehydrated skin, use Essential Lipids at night for three weeks, then switch to another Night Switch, then start again with Night Switch Essential Lipids whenever your skin feels dry and dehydrated. For problem skin, use BHA/AHA followed by Retinol. For ageing skin, use PHA/AHA followed by Retinol. Do also check our 'Good Skin' tab for more info.
Buy this product as part of a set
Shipping
For more details on our Shipping and Returns policy, please click here.