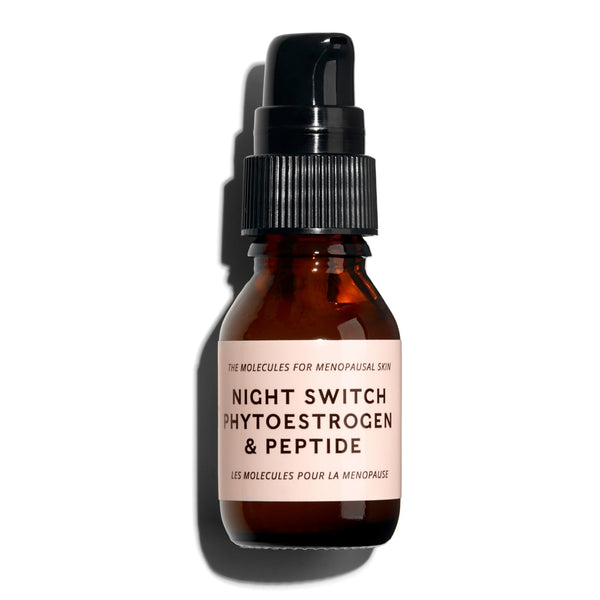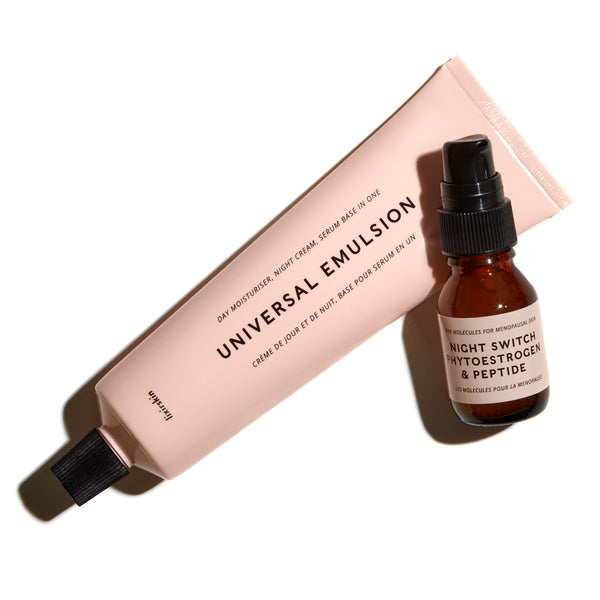 Night Switch Phytoestrogen & Peptide
The molecules for menopausal skin
Its creation
The truth be told, I have been experimenting with what could work best to improve the effect of menopause on my skin for a long while! Firstly, trials with single actives, then - being a formulator at heart - I experimented with blends in search of synergy. There is no miracle for menopausal skin but I stumbled on a little recipe that truly helps!' Dr Colette Haydon
What it does
A complex of liposomal Genistein and Collagen Tripeptide designed to help improve density and elasticity of thinning peri and post-menopausal skin
How your skin feels
Your skin is firmer. Sagging, wrinkles and crepey texture are reduced.
To use
Mix with UNIVERSAL EMULSION in the palm of your hand, use one pump if you only wish to apply to your face, eye contour and neck, two pumps to include your décolleté, three pumps to include arms, shoulders and hands. Use at night for four weeks, always allow your skin to rest and reset for a few days, then switch to NIGHT SWITCH RETINOL.
Ingredients
Aqua (Water), Glycerin, Alcohol, Phenoxyethanol, Lecithin, Carbomer, Ethylhexylglycerin, Hydroxypropyl Cyclodextrin, Sodium Hydroxide, Soy Isoflavones, Palmitoyl Tripeptide-38.
FREE SHIPPING
with purchase on orders over $30
15% DISCOUNT
If you subscribe to our Newsletter
FREE SACHETS
2 free sachets for every order
HOW TO USE
Night Switch Phytoestrogen & Peptide
FAQ
Can Night Switch Phytoestrogen & Peptide be used alone or is it best to mix with Universal Emulsion?
All our Night Switches have to be mixed with Universal Emulsion except BHA/AHA, which can be used by applying one to two pumps to the affected area, following with Universal Emulsion.
Shipping
For more details on our Shipping and Returns policy, please click here.