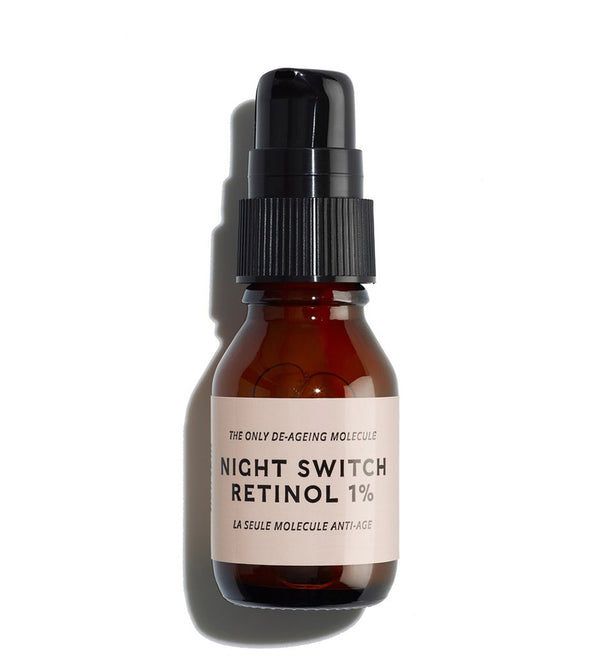 Night Switch Retinol 1%
The only de-ageing molecule
Its creation
We wanted to create targeted night care for skin concerns that allows the skin to rest and reset. NIGHT SWITCH are formulated with pure active molecules for when your skin switches to repair mode in the evening.
Skin likes change. An active ingredient used for too long saturates the skin and loses efficacy. Switching stimulates the skin to avoid the plateau effect and get better results. NIGHT SWITCH asks the skin to do one thing at a time, but to do it well.
What it does
Retinol regulates the skin metabolism, in both the top layers - the epidermal wall - to refine texture, control problem skin and reverse sun damage, and in the deeper layers - boosting protein production in the dermal fibroblasts - to give density, volume and firmness.
Your skin
After one week, your skin is softer and smoother, more refined and clearer. Soon the wrinkles will also appear less deep and your facial contour fuller.
To use
Mix with Universal Emulsion in the palm of your hand, use one pump if you only wish to apply to your face, eye contour and neck, two pumps to include your décolleté, three pumps to include arms, shoulders and hands. Use at night for four weeks, always allow your skin to rest for a few days, then switch to another Night Switch, then start again with Night Switch Retinol.
Ingredients
Aqua (Water), Phospholipids, Retinol, Phenoxyethanol, Sodium Dehydroacete.
FREE SHIPPING
with purchase on orders over $30
15% DISCOUNT
If you subscribe to our Newsletter
FREE SACHETS
2 free sachets for every order
HOW TO USE
Night Switch Retinol 1%
Buy this product as part of a set
Shipping
For more details on our Shipping and Returns policy, please click here.