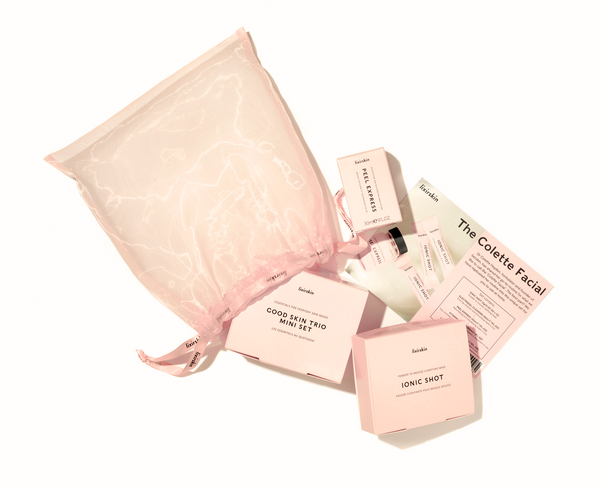 The Colette Facial
Colette, formulator, founder and CEO of lixirskin, has shared her go-to routine for what we like to call 'The Colette Facial' for your best skin ever, in less than 30 minutes. The best part? We have replicated her routine for you to try at home, now available in our limited edition organza, drawstring bag. 
What does 'The Colette Facial' consist of?
'First I mix one sachet of IONIC SHOT with ELECTROGEL CLEANSER in my palm to develop a luxurious mousse that I apply all over my face, massage thoroughly and leave for five minutes. This magically lifts congestion to clear my pores, and refines and tones my skin beautifully. I also find it wonderfully depuffing, which is something that I struggle with when I'm feeling tired, as it mimics the deep cleansing desincrustation phase of a galvanic facial.
Then, I massage PEEL EXPRESS into my skin, until it turns white, and leave for 20 minutes. It's quite a strong peel but it never irritates the skin. This really is the perfect product for a spa-quality peel - it instantly boosts radiance, smooths and renews the skin whilst delivering intense hydration. 
I then massage VITAMIN C PASTE onto my face, eye contour, lips, neck and décolleté (dare I say my dé-Colette?) with damp fingers, to activate the Ascorbic Acid, and leave for a few minutes. This is a miracle product that brightens my skin by reducing any dull, grey tones; it simply reveals my skin's true colours! 
Finally, I use UNIVERSAL EMULSION. It is light but intensely moisturising for both day and night, and can be used all over the face and body (I don't believe in having a cream which is good for a bit of your skin and not the other - a good formula does it all!). Even better, it provides natural UV protection of SPF10 with no added sunscreens.
Et voila!' 
Set contains: 
Ionic Shot (Box of 12 sachets)
Powder to mousse clarifying mask
+
Electrogel Cleanser 30ml
Evening cleanser and detoxifying mask in one
+
Peel Express 30ml
Resurfacing and rehydrating mask in one
+
Vitamin C Paste 30ml
Your morning express mask and Vitamin C treatment in one
+
Universal Emulsion 30ml
Day moisturiser, night cream, serum base in one
FREE SHIPPING
with purchase on orders over $30
15% DISCOUNT
If you subscribe to our Newsletter
FREE SACHETS
2 free sachets for every order